https://www.velonews.com/2005/01/news/ofoto-fires-decanio-over-web-sites_7451
Ofoto fires DeCanio over web sites
American racer Matt DeCanio, who created waves throughout the cycling communitylast summer by admitting he had used EPO during the 2003 domestic racingseason, was released late last week by the California-based Ofoto-SierraNevada Professional Cycling Team without ever participating with the team. DeCanio, 27, who raced with the European Linda McCartney team as wellas Saturn and Prime Alliance domestically, sat out the 2004 season buthoped to return to racing in 2005 with Ofoto-Sierra Nevada. Though DeCaniohad admitted last June to EPO use during the 2003 Tour of Connecticut stagerace, he had

Former Prime Alliance rider vows to continue fight against doping
By Neal Rogers
January 24, 2005
American racer Matt DeCanio, who created waves throughout the cycling community last summer by admitting he had used EPO during the 2003 domestic racing season, was released late last week by the California-based Ofoto-SierraNevada Professional Cycling Team without ever participating with the team.
DeCanio, 27, who raced with the European Linda McCartney team as well as Saturn and Prime Alliance domestically, sat out the 2004 season but hoped to return to racing in 2005 with Ofoto-Sierra Nevada. Though DeCanio had admitted last June to EPO use during the 2003 Tour of Connecticut stage race, he had not yet been sanctioned by the U.S. Anti-Doping Agency and hoped to return to racing, largely, he says, to spread his anti-doping message.
The primary reason for DeCanio's release from the team stemmed from the content of his controversial, staunchly anti-doping Web sites, www.stolenunderground.com and www.mattdecanio.com. Content on DeCanio's sites has varied from his own doping experiences to highly personal admissions of depression as well as specific accusations directed towards past and current professional riders, including Lance Armstrong.
According to team spokesman Josh Kadis, DeCanio and the team had a verbal agreement, as an addendum to his original contract, that his Web sites would not "become a forum for debate and accusations" on doping. When DeCanio refused to go along with the team's policies, citing the First Amendment, he was asked to resign. DeCanio, however, has refused to resign, and the matter is now in the hands of the team's attorneys.
"The main thing that I think is important to understand is that the reason we've asked Matt to leave the team is not because of his views,or his admission of doping," Kadis said. "In the time since he's been amember of the team there have been specific violations of team policies that Matt voluntarily made with team management. The First Amendment protects censorship from the government, but it doesn't protect employees, or independent contractors in this case, from abiding by a contractual agreement"
DeCanio, who signed his contract with the team in November, said the team did not pressure him on his Web sites' content until a month later, shortly before the team's 2005 roster was announced.
"Right before the team announcement they said, 'Everything's got to go' [from the Web sites]," DeCanio said. "My contract had already been signed, but they were threatening to fire me. I didn't sign anything — it was a verbal agreement that the team couldn't be used as a vehicle for my message. But what does that mean? They act like this is a porn site,but this is an anti-doping Web site aimed at teaching kids to stay away from drugs. How can you ban a rider from writing anti-doping journal entries?"
According to Kadis, the agreements — both verbal and via e-mail — clearly stated the team was not comfortable with DeCanio's direct attacks on specific individuals.
"We made some ground rules with Matt before we announced the team,"Kadis said. "We went through the Web sites together and said, 'Here's what can stay up, and here's what comes down. Then at a certain point, [controversial material] started reappearing on the Web site. Matt wasn't willing to abide by his contractual written and verbal agreements."
Kadis stressed that DeCanio wasn't released solely because of the contenton his Web sites, but because, "There were also a number of agreements and policies that all team members have agreed to abide by and that Matt disregarded in his e-mails and phone conversations with team management."
Another of those violations was centered on an interview DeCanio conducted with VeloNews on January 14 concerning his admissions of drug use and subsequent lack of sanctioning by USADA. (According to USADA's director of legal affairs, Travis Tygart, an admission of doping is considered a punishable violation for up to eight years following the admission.) As part of his agreement with the team, DeCanio was instructed to first direct all media inquiries to Kadis.
On mattdecanio.com, DeCanio posted an e-mail written by Ofoto-SierraNevada operations manager Kurt Stockton and dated January 20. In the e-mail Stockton wrote, "Regarding media inquiries, when VeloNews contacted you, Josh [Kadis] initially found out about that by reading a posting onmattdecanio.com, while independently I forwarded an e-mail to him from you where you stated that VN wanted to do an interview and you wanted the cover. [DeCanio was never promised a cover, nor any editorial content,by VeloNews.]
"Not long after Josh contacted you regarding this you stated that you felt your freedom of speech was being threatened by the team and posted the 'First Amendment' on SU [Stolenunderground.com]. You also stated in correspondence with Josh that you would 'not continue to abide by any rules the team has set forth' and that you would 'take the team to court and win'."
Further in his e-mail to DeCanio, Stockton wrote, "You have chosen to put your own agenda above that of the team, which is fine for an individual but not for a team. The first time that you and I spoke regarding you racing in 2005, my main concern was that you not use the team as a forum to promote your own agenda and you agreed that you would not do so. The fact that we do not wish our program to be a forum for accusations and debate does not mean we are any less committed to ridding cycling of doping."
According to DeCanio, he simply could not allow to have his personal anti-doping sentiments censored by team personnel.
"Ofoto-Sierra got nervous," he said. "They are nervous that they aregoing to be negatively affected by my site, that they're not going to get race starts or they might not get sponsors. I don't want to talk negatively about Kurt Stockton or [team director] Robin Zellner, because they signed me when I needed a team, but I don't think it's right to fire me because I have an anti-doping Web site. They are bending at the will of the corrupt, and they lack the courage to make a stand."
Asked if the team recognizes that some may view its having distanced itself from DeCanio as a less-than-aggressive anti-doping stance, Kadis replied, "We have a very strong anti-doping stance, but we also have a strong stance on how our program should be represented. When you are a part of a team, in any sport, as in cycling, every day you wake up in the morning you represent the program, not just when you are on the road between the start line and the finish line."
But DeCanio sees it otherwise. "I told them, 'If you go against me, you're siding with the dopers,'" he said. "I guarantee it's better for the sport to have me out there racing. I want to reach as many kids as possible. I honestly think I can change sport. I don't want to be in an organization that is going to undermine my desire to clean up the sport."
Neither Stockton nor Zellner wished to comment on the details concerning DeCanio's release, but in a January 13 interview with VeloNews, regarding the team's decision to bring aboard a rider possibly facing sanctioning from USADA, Stockton said, "The fact that Matt is so anti-doping doesn't change the fact of what he admitted to, but he is trying to get across a positive message."
Stockton also stated in that interview that the team wasn't overly concerned with the possibility that DeCanio might face sanctioning for his voluntary admission of EPO use. "It may very well be a possibility that "[a USADA sanction] could happen," Stockton said. "If that's the case, we'll deal with it when it happens. I could worry about all kinds of scenarios thatcould happen in my life, and it would drive me nuts. If a ruling states that he should be sanctioned, then he should be. We'll cross that bridge if we get to it."
Since that January 13 interview, however, relations between DeCanio and team management have worsened day by day, largely due to the contentof DeCanio's Web sites.
DeCanio has, in many ways, polarized the domestic peloton since StolenUnderground.com began heating up with admissions and accusations last summer. Many see his over-the-top online diary ramblings and unsubstantiated allegations as akin to libel, and more than one rider that DeCanio accused of using performance-enhancing drugs has, off the record, promised this reporter that he intended to inflict physical harm upon DeCanio should he show up to race on the pro circuit.
"We thought it best that Matt directed media inquires to me for the time being, in part because we thought it best to ease him back into his return to pro cycling based on threats other riders had made to Matt," Kadis said.
Some riders that know DeCanio have gone so far as to question whether he ever used EPO or may have made the whole story up. Others, however,point out that DeCanio is the first rider in the U.S. to come out and openly admit to his own drug use, and the only rider with the courage to suggest that within the pro peloton, the emperor, in fact, might not be wearing any clothes.
"Matt's pretty confrontational and makes a lot of people angry," one high-profile professional said, asking to remain anonymous, "but there's a lot of truth in what he writes on his Web sites."
Kadis added that within Ofoto-Sierra Nevada, the feeling is that DeCanio is a "talented rider who is passionate and committed not only to racing, but to his cause." But, Kadis added, "As a team we have a contractual right to specify how we want our team to be represented, and ultimately he wasn'tcommitted to being a part of the team and that's a major part of being a professional in the sport."
As for DeCanio, he is without a team for 2005 and still faces a possible sanction for admitting to the use of performance-enhancing drugs.
"It is a battle," he said. "Everyone is trying to silence me. Everybody in cycling wants me gone — it's bad for business. They don't give a sh*t about the kids. I've seen way too many talented kids quit the sport because of the drug problem.
"My career is over; it's been over since I spoke out. The only way forme now is to find a drug-free sponsor, somebody who won't tell me I'm an idiot because I want to save kids from going through what I've had to go through."
---
Strong opinions? Random thoughts? Rude remarks? Send 'em in to WebLetters@InsideInc.com.
Please include you FULL NAME and HOME TOWN. Letters may be editedfor length and clarity.
https://www.miaminewtimes.com/news/tour-de-dope-6336299



Tour de Dope
EMILY WITT | JULY 27, 2006 | 4:00AM


There was something fishy about the skinny, long-limb, shaved-head stranger who appeared in the parking lot of Macy's at Aventura Mall one steamy Sunday last summer. It wasn't simply that he was younger than the other weekend warriors who bike to Key Biscayne and back every week. Most of the 30 or so cyclists are middle-age professionals. But this guy looked, well, scrappy.
For starters he wasn't wearing a helmet, a hazard most of the cyclists wouldn't risk outside their driveways. He was also shirtless — no state-of-the-art sweat-wicking garment adorned with zippers and pockets to store energy bars (or cover his many tattoos).
Then there was his ride: a creaky-looking wreck spray-painted black. "His bike was cheap and old, but on purpose, like he had made it look even cheaper and older," says Steve Tannenbaum, a 40-year-old urologist and cycling enthusiast who was with the group that day. "It was like a bike a guy who delivers Chinese food would ride, but without the basket."
The urologist and his friends were appalled. They wore breathable, padded, no-chafe Lycra shorts and aerodynamic helmets. They straddled gel-infused seats mounted on titanium frames and emptied high-tech energy powders into insulated water bottles. Resetting digital heart-rate monitors/mileage counters, they polished their anti-glare, solar-radiation-resistant sunglasses with chamois cloths. "I mean ..." sputters Tannenbaum, still slightly scandalized, "buying the equipment is like half the fun of doing this."
With a mass clicking of shoes to pedals, the ride began. Leaning over their triathlon handlebars, riding down A1A, the regulars warily eyed the stranger through polycarbonate lenses. Who the hell was this guy? He wasn't just incongruous in appearance. The stranger was skilled, practiced, like he had been trained. He was fast. in appearance. The stranger was skilled, practiced, like he had been trained. He was fast.


A few Sundays later, 21-year-old Giancarlo Bianchi saw the oddly attired cyclist cruise by him at the summit of the Rickenbacker Causeway. I've seen that guy somewhere, he thought.
He squinted at the black bike and its pale rider in the glaring sunlight. Then he remembered: the Orlando Festival of Speed, 2002. His father took him to see the pro cycling race. Bianchi was just a teenage racer matching names with numbers in the festival program. He remembered watching a rider at full speed lead the peleton over a rough patch of potholed concrete — a face grinning, a pair of eyes gleaming maniacally.
Bianchi would have recognized him anywhere.
When the helmetless rider braked after descending the causeway, Bianchi pulled up alongside him. "Did you used to race for Prime Alliance?" the young cyclist asked, referring to a pro bike team.
Taking off his gloves, sweaty and out of breath, the other rider nodded.
"Is your name Matt DeCanio?"
It was.
There was a time when DeCanio was one of this country's most promising young cyclists. A member of the U.S. national team for six years, he was the fastest American at the Under-23 World Championships in 1996 and 1999. He trained and raced in 22 countries as a member of a top-level Italian amateur team and later as a pro on the European circuit. He wore yellow jerseys in some of North America's biggest races.
These days the 29-year-old rides on the weekends and at night, when he has time. Since South Florida's landscape is basically planar, it doesn't quite count as training. For a year he sold BMWs at the Braman dealership on Biscayne Boulevard. They fired him a couple of weeks ago.
DeCanio blames his decline on a drug-based, win-at-all-costs culture that dominates professional bicycling. Indeed, in late May, Spanish police raided the Madrid apartment and office of Dr. Eufemiano Fuentes and found nearly 200 bags of frozen blood, 39 bags of frozen plasma, testosterone patches, human growth hormone, erythropoietin (EPO), and dozens of other drugs. After authorities submitted Fuentes's suspected client list to the organizers of the Tour de France (which concluded this past Sunday), the riders who finished second, third, fourth, and fifth in last year's race were disqualified, including 1997 Tour winner Jan Ullrich.
He's not the first rider to be busted after ascending the podium. Italian Marco Pantani tested positive a year after his 1998 Tour de France win, and Olympic gold medalist Tyler Hamilton is serving a sanction for a positive test in 2004, to name only two. Critics of Lance Armstrong say he, too, is guilty, citing a seven-year-old urine sample they claim is tainted.
DeCanio is perhaps the nation's most outspoken (and off-kilter) critic of doping and drug use. He claims drugs were epidemic during his time on the circuit, though he used them only once before beginning his crusade to educate younger riders. Through his Website Stolenunderground.com, where often-valid points about sports and drugs are expressed with grammar and spelling that would make a composition teacher weep) he has made dozens of enemies by publishing unsubstantiated rumors about cyclists who dope.
His critics say he is unbalanced and lacks talent. They characterize his campaign as a bitter tirade by a failed athlete. But they are wrong about at least one thing: Matt DeCanio didn't end up unemployed and on a creaky bike because he wasn't fast enough. He got there by coming clean.
The obsession began with the BMX fad of the mid-Eighties. It was about admiration for a world of little bikes with black-and-white checkered pads velcroed around their frames. It was clothing emblazoned with racing numbers, terry-cloth wristbands, and the cult movie Rad (tagline: "A hometown kid on his BMX against the best in the world. At Helltrack ... the heat is on."). At first, DeCanio admits, he was much more interested in the race than the vehicle — motocross and four-wheelers earned more respect than touring bikes in rural central Virginia, where he grew up.
But with the arrival of the mountain bike, at the dawn of the era of inline skates and snowboards, DeCanio's obsession became bicycling. His mom, an elementary school teacher, bought a couple of the fat-tire rides for the family, and they began taking long treks through the Blue Ridge Mountains. At age fourteen, DeCanio met another teen, Alex Gilliam, who rode for a cycling club in nearby Charlottesville. Gilliam invited DeCanio to give road-racing a try.
Gilliam, who now works as an architect in New York City, remembers DeCanio as a skinny teenager who showed up for training with the Monticello Velo Club wearing soccer shorts over his bike shorts. The older cyclist had to remind DeCanio to switch gears on hills. University of Virginia professor Ruth Stornetta, who trained the club's junior riders, remembers something else: From the beginning, DeCanio possessed an almost freakish physical endurance.
"When he started out, he wasn't doing all that well," she remembers. "Most of the local races were criterium races, which are held on a short course that favors sprinters. He was a climber." Stornetta took DeCanio to the state time-trial championships in spring 1993. The ten-mile individual race against the clock favored the teenager's endurance, and he had one of the fastest times of the day. Stornetta encouraged DeCanio to travel to Baltimore for physiological testing. The evaluation revealed his aerobic capacity was world-class.
DeCanio doesn't spare any modesty: "I was a natural."
Stornetta pushed him to do more national races, hoping he would be recruited for the U.S. team. Unfortunately the sixteen-year-old took a wrong turn at the 1993 national championships, making a strong finish impossible. But at the Killington Stage Race in Vermont, the last national event of the season, DeCanio won. He rode faster than seventeen- and eighteen-year-olds — earning sponsorship by a bicycle manufacturer that ran one of the nation's most prestigious youth teams. U.S. Olympic coaches invited him to training camps in Colorado Springs and San Diego.
Soon everything — school, social life — came second to cycling. His parents purchased equipment, drove him to practice, and cheered him on. Peers at his rural high school, where football reigned, regarded DeCanio, with his biking caps and shorts, as an oddity. It was there the young man laid the foundation for a lifetime of ignoring others' opinions of him.
He continued to win on the junior circuit, finishing first at the National Time Trial Championships in 1995. The following year he made the U.S. team and traveled the world, biking the Tour of Japan, the Tour of Malaysia, and a number of European competitions.
There was little education about drug use in pro sports, which DeCanio now sees as an implicit acceptance of the practice. "I believed in everything," he says. "The Olympics, my dreams, the future — that it'd be good.... When you find out the reality of the situation, it fucks you up."
It wasn't that doping controversies were unheard of: Scandals like that of steroid-using U.S. sprinter Ben Johnson were well known, but DeCanio assumed users were pockmarked, muscle-bound hulks with shrunken testicles — not people like him.
In 1996, at the Under-23 World Championships in Switzerland, the then-nineteen-year-old was surprised by the syringes painted all over the road. The graffiti was labeled in Italian: "Vai EPO!" (Go EPO!), a sarcastic reference by protesters of erythropoietin, the red-blood-cell-producing performance enhancer of choice among cyclists. The race was also rife with rumors: who was doping, who wasn't, what they were taking, the difference drugs could make.
DeCanio placed seventeenth in the world for U-23, with the fastest time on the U.S. team. The next year, G.S. Filati Alessandro, a top team in Tuscany, drafted him to race in the Italian amateur league. It was the cycling equivalent of playing football for Florida State. "Every world champion comes out of Tuscany," DeCanio explains. "It's a feeder for the pros."
But the young cyclist was soon dismayed. "The first time I walked in the building, there were needles everywhere," he remembers. "It was like a crackhouse. I got the picture pretty fast that all the things I'd heard about were true."
---
As early as the 1890s, cyclists were known to mix heroin and cocaine to improve endurance (hence the nickname "speedball"). According to sports historian Simon Craig, flakes of cocaine or strychnine dissolved in coffee comprised early racers' Gatorade. Alcohol, morphine, and other narcotics eased muscle pain. Nitroglycerin increased the heart rate and opened airways.
The Twenties brought to sports the energy-producing magic of Benzedrine and other amphetamines — a love affair that has yet to end. In the Thirties and Forties, the medical anesthetic ether became the drug of choice. Long-favored by Belgians, who sucked ether-soaked sugar cubes during races, it masked pain. "There were reports of cyclists wobbling around and bumping into each other, of racers simply leaving the road and wandering off into the fields," says Miami cycling guru Steve Tannenbaum. Then came steroids.
In 1967 popular British cyclist Tom Simpson dropped dead of a heart attack in the middle of the Tour de France. An autopsy of the 29-year-old found traces of amphetamine and methyl amphetamine in his bloodstream, and cited a mix of drugs and exhaustion as the cause of death. Steroids and amphetamines were subsequently banned from many competitions. The first sports to embrace the ban were cycling and soccer, but the 1968 Olympics made testing a near-universal practice.
Athletes were always one step ahead of the enforcement, however. In the Seventies and Eighties, cyclists began experimenting with oxygenated blood transfusions — removing a pint from their bodies, separating the red blood cells from the white, and adding back the enhanced blood before a race. Soon this, too, was outlawed, though it's nearly impossible to detect.
Designer steroids evolved faster than the tests designed to detect them. Synthetic human growth hormone (HGH) is almost identical in molecular structure to hormones produced by the body, and until recently there was no reliable way to confirm its presence in the body. What's more, often the physical changes produced by these drugs remained after the evidence was out of a rider's system.
The drug to end all drugs, for cyclists at least, arrived in the mid-Eighties. EPO was a synthetic hormone intended to regenerate red blood cells lost to kidney failure or chemotherapy. (Lance Armstrong took it as a cancer patient.) The drug enhances the body's ability to carry oxygen. DeCanio likes to point out, with a wry smile, that Amgen, the pharmaceutical company that makes a recombinant form of EPO, also sponsors the Tour of California, the biggest pro race in the United States.
---
DeCanio's best memories of his two years' racing in Italy are nearly all of time spent on the road, training. He and his teammates would bike past vineyards and wineries to see the Leaning Tower of Pisa or the Ponto Vecchio in Florence. They would stop to eat at cafés and whistle at pretty girls. The American's arrival even made news — he was interviewed by a local television station.
"We all loved bike-riding," he recalls. "We all loved competing. Unfortunately there was all this other stuff going on."
According to DeCanio, his coach would often hold meetings to berate the team for poor performance. "He was basically trying to force us to take drugs," DeCanio says. "He'd say, 'The problem with this team is you're not taking enough medicine!' Every time I rode poorly, he'd ask me to take EPO." (The team no longer exists, and the coach could not be reached for comment.)
For prescriptions, he says, the team had an arrangement with a "friendly pharmacy" in a nearby town. It also had a deal with a local blood lab, which would check riders' red blood cell counts before races. When DeCanio's iron levels dropped after a particularly hard month of riding, he contends the pressure was especially intense.
Indeed he says riders who didn't take drugs were given the worst equipment and inferior roles on the team. DeCanio claims he took shots of vitamins but adamantly refused HGH and EPO despite peer pressure. He would see HGH in the refrigerator, and riders openly carried syringes with cortisone in fanny packs to shoot up before a race.
Many of the meds were administered by less-than-professional people, like the owner's son-in-law. DeCanio says a Russian teammate received a glucose injection that contained a tiny air bubble. It wasn't enough to kill him, but sufficient to cause excruciating pain. "They had no respect for you as a person or for your health," DeCanio says.
DeCanio's friend from the 1996 U.S. team, Brent Aucutt, felt similarly pressured. In 1997 Aucutt rode for Pontivy, a sort of minor-league team for Festina, a name that would become synonymous with drug scandal at the following year's Tour de France. Aucutt says the drug use wasn't as prevalent or as open in France as DeCanio describes it in Italy but that everyone knew it was happening. Speaking on the phone from his hometown of Clovis, New Mexico, Aucutt is matter-of-fact: "I quit in 1998, after I lost a contract to ride the next year for Festina. At the world championships, I'd told reporters that I would never do drugs to race my bike. When I couldn't get signed again, a French friend said it was probably because I'd said that."
When a young French rider on Aucutt's circuit died of a cortisone overdose, he decided he was done with the sport. "That's when I hung up my bike," he says. "I said, 'I'll just quit and do something else. Riding my bike isn't worth dying for.'"
Rene Saenz, another racer from the 1996 U.S. team, went to ride for an Italian team in the town of Sansepolcro in northern Tuscany. He says his team's house was also full of syringes. "There were needles and IVs, but they said they were for vitamins — glucose drips and amino acids, stuff like that. I didn't know much Italian, though, so it could have been anything." He adds that he was competing at a different level than DeCanio. "He was on a really good team," he says. "I was just on a side, shady team. I remember getting second place in races like fifteen times though, and my coach saying that the winner was on drugs. They don't do the Tour de France on just Gatorade."
In 1998, after turning 21 in Florence, DeCanio went home. Demoralized by the drug use, he enrolled in college, intending to study philosophy and religion — and quit cycling. Within months, however, he joined the college team and began competing. ("I couldn't help it," he sighs.) In 1999 he won second in the U-23 U.S. nationals and then was the highest-ranking American at the world championships for a second time. Months later he was back in Europe to race as a pro for a British team sponsored by Linda McCartney Foods (a frozen-food company started by Paul McCartney's first wife). The team trained in France, in a small village outside Toulouse. By this point, DeCanio knew what to expect. After police caught a masseuse from Team Festina traveling to the 1998 Tour de France with a trunk full of drugs, many teams stopped operating so openly, says DeCanio. But for most riders, drugs were simply the way it was.
"It was just something that people did, that everybody accepted," he says. "Everybody knew that either you take the drugs and you're in the lead group with Marco Pantani, or you don't and you ride in the back. If the testers caught you, you were kicked off the team immediately. But if not, nobody was going to say something."
EPO is a tricky drug, particularly when one is trying to prevent its detection. The vampires (as the officials who draw blood for testing are known) usually consider the percentage of a blood sample that consists of red blood cells, called the hematocrit level. It can't be higher than 50 for a clean test. Excepting men who live at very high altitudes, the average male hematocrit is between 38 and 44 percent. Cyclists, in other words, have room to cheat.
In Europe, DeCanio says, he had to get used to his roommates and team members constantly testing their blood. Many carried portable kits to check their levels.
The danger of EPO is that at a high hematocrit level, blood thickens to the point that it literally clogs the heart. In February 2004, the BBC reported eight elite cyclists had died of heart attacks in the preceding thirteen months, half under the age of 24.
Soon the European pro circuit became too much for DeCanio. "They ride really hard races," he says of European cyclists. "In the States you're riding 30 miles per hour on flat roads; there they ride 40." His contract with Linda McCartney Foods wasn't renewed. Back in the United States, he easily secured a contract with car company Saturn's pro team for 2001. In 2002 he switched to a team sponsored by Prime Alliance, a plastics manufacturer. It was good to be back home, DeCanio says. A lot more riders were biking clean.
---
The 2002 season was DeCanio's most successful. The highlight was winning the yellow jersey for one stage of the Grand Prix de Beauce in Montreal; the low point was losing the overall race to an Australian rider named Michael Rogers. It was after crossing the finish line in second place that DeCanio says he made the biggest mistake of his career. He yelled over to Rogers: "I'm racing here clean. How about you?"
The comment was unfounded. DeCanio acknowledges he had never seen Rogers use drugs, and the other rider hadn't tested positive.
At the end of the season, DeCanio's sports agent told him he most likely hadn't been selected for the U.S. Postal Service team — the A-list of pro cycling — because of his snipe. "They said they weren't interested because I was running my mouth at a race. At that point I said, öThat's it. I'm taking drugs.'" (Michael Rogers has since won the world championship for the past three years. He finished tenth in this year's Tour de France.)
DeCanio's success was always sporadic. He suggests that his performance follows his moods, which tend to oscillate from one extreme to the other. When a girlfriend broke up with him at the end of the 2002 season, he slid into a self-destructive depression. Alex Candelario, a former teammate on Prime Alliance, says he and DeCanio were really close that first season, but the following year DeCanio changed.
"He ended up hanging out with a guy on the team who was a totally negative influence," Candelario says.
The guy was a new arrival named David Clinger, a cyclist whose bad-boy reputation had just begun to eclipse his indisputable talent. Clinger and DeCanio were the same age. "I think Clinger led," posits Candelario. "Matt was more just accepting of things. He was just this really nice guy from a small town."
Clinger, a former Eagle Scout raised in a Mormon family in California, had strayed from the flock. He turned pro at age twenty and racked up wins at major races in both the States and Europe. In 2002 he raced with U.S. Postal but the next year switched to Prime Alliance. "Lance didn't like him," DeCanio says. "But Lance is a fucking asshole. I hate Lance."
DeCanio and Clinger moved to Los Angeles after the 2002 season. The two started smoking marijuana and drinking heavily. "We stopped training," DeCanio says. "We just wanted to party, take drugs, and get laced. Sometimes David would get prostitutes."
Candelario tried to convince DeCanio to move to nearby San Diego, where he was living. DeCanio refused. He began taking long rides at night, often recklessly soaring down Mulholland Drive without a helmet. He was broken-hearted and miserable. The prospect of hurting himself began to seem almost enticing, he says.
When Clinger told DeCanio that some U.S. Postal members doped, the less experienced rider resolved to try EPO. He wanted to ride with the world's best. "Until you go to Europe, you can't understand it," DeCanio says. "You see something like that, you want it so bad you would do anything. It's like a rock concert — lights, people screaming — it's like that. Million-dollar contracts, the most beautiful women in the world. You're more popular than Dwyane Wade."
Back in Los Angeles, Clinger obtained testosterone patches and vials of EPO from a local doctor, claims DeCanio. The pair decided to use the drugs in preparation for the May 2003 Housatonic Valley Classic, a race in Connecticut. The testosterone would be out of their system within nine days, DeCanio knew, but the muscle-building effects would remain.
The two riders gave each other EPO injections, though they had no idea how to do it properly, DeCanio says. ("And David was stingy with it," he adds.) DeCanio is pretty sure he didn't take enough to make a difference physically. Mentally, however, he felt awful. He had become everything he once reviled.
Clinger won the race. "I can't say enough about what my team did today," Clinger told Cyclingnews.com. "Matt DeCanio rode at the front for about 40 or 50 miles." DeCanio says he started drinking before the race even began. After fulfilling his duties as a teammate, he quit without finishing.
His depression only worsened. The 2003 racing season was a failure. That fall, he started Stolenunderground.com, initially as the Website for a cycling clothing line he wanted to launch.
It quickly became a place to let out his emotions. He vented his frustrations on the site, naming cyclists he says he had seen dope themselves, and posting rumors passed on to him by others. He published allegations about ten to fifteen cyclists he now will describe only as "name-brand." The men in question were furious with him and responded with angry threats.
Attempts to speak with three of them were unsuccessful. All preferred not to afford their accuser any further acknowledgment.
DeCanio is ambivalent about what he did. On one hand, he says those he once accused now decline comment because they fear further publicity on the Website. But he admits he made mistakes, and alleges he stopped tattling a couple of years ago. "It was really bad to just say that about people," he says. "That was probably the worst thing I did. I'm not proud of that."
Then he did the unthinkable. In June 2004, DeCanio contributed an article titled "How to Deal with the Problem of Doping" to Racelistings.com. In his trademark error-laden prose, he wrote about his experiences in Europe — and admitted to drug use. According to Velonews.com, he was the first U.S. rider to make such an admission without being caught first.
DeCanio says he wrote the story on impulse. Only when he awoke the next morning did the consequences of his confession sink in. "It was like Jerry Maguire," he cringes. He knew he would not only lose his sponsorship, but also his career as he knew it would end. Within days he received hundreds of e-mails from all over the world. While many were supportive, others were quick to label him a hypocrite. The admission shocked team members, especially Candelario. "For me it was a big disappointment," he says. "It was tough to accept."
DeCanio returned to Charlottesville. Gilliam, the rider from DeCanio's first team, was working in town as a carpenter that summer. "It was clear that this very principled person that I had known when he was fourteen and fifteen was very upset about what was going on, about the larger state of something he loved," he remembers. Gilliam watched the French animated film The Triplets of Belleville around the same time. The story of gangsters giving a morose pro cyclist blood transfusions to use him for profit was only too timely. "Everything all sort of flowed together," Gilliam says. "I think Americans have a naive view of sports in general and what it takes to win. It's a situation where everybody knows it's going on, but if you get caught, you're the Devil."
---
Normally USA Cycling — the governing body for the sport — forces those caught using drugs or doping to sit out for two years, forfeit their winnings, and pay a large fine. Since DeCanio made no pretense of returning to the sport, the organization let his admission slide at first.
DeCanio joined his girlfriend Heather in Miami, but then in November he accepted an offer to return for the 2005 season and race on the Ofoto/Sierra Nevada pro team. His detractors lobbied USA Cycling for punishment, claiming that an admitted drug user could not return without some form of reprimand. In response, the regulatory body sanctioned him for a year and a half.
It didn't end there. When Ofoto asked him to take down his Website, DeCanio refused, sending a lengthy e-mail peppered with statements like: "I am going to make this team shine like a diamond in P. Diddy's ear. If I ever feel that the team is going to lose a sponsor because of me, or our team is being negatively effected [sic], I will retire. I am not going to destroy all of your hard work."
Ofoto general manager Robin Zellner accidentally sent DeCanio a reply intended for other eyes. It said only: "Dude, DeCanio is nuts! I am over him already! He needs to go!"
DeCanio posted the e-mail on his site. He was fired before training even began. (Team managers did not respond to New Times's requests for an interview.) After his termination, the cycling magazine Velo News held an online poll. "Was Ofoto right in firing Matt DeCanio?" Of 225 visitors to the magazine's online site, 134 said yes.
Only a week after DeCanio's dismissal from Ofoto, David Clinger showed up in California for 2005 training with his new team, Webcor. While on vacation in Argentina, the lapsed Boy Scout had gotten a full Maori-inspired face tattoo. "I have a lot of respect for the Polynesian lifestyle and culture," Clinger said at the time. "They are very peaceful and welcoming, and I admire the way they protect their land." He assented that the new look was also something of a publicity stunt. "Nobody in the cycling community has a face tattoo."
After some discussion of laser removal, Webcor dropped his contract. Cycling media had a field day. "There has been no end of the old viewing-with-alarm lately, thanks to the madcap antics of Matt DeCanio and David Clinger," wrote Patrick O'Grady, an editor and columnist at Velo News. "Once clean-cut, happy young men ... the kind a lucky team director could feel good about taking home to meet the sponsor, they have wandered far from the straight and narrow, the first assuming the persona of an insomniac Eliot Ness and the second the façade of a Polynesian warrior."
New Times's attempts to contact Clinger were unsuccessful. This past July 14, however, he surfaced in the news. "Bicyclist charged in Berks bar fight," read the headline over a piece in Allentown's Morning Call. According to the article, Clinger had "harassed bar patrons, refused to leave the bar, and grabbed a woman by the waist, dragging her to the floor" at the Toad Creek Bar in Topton, Pennsylvania. When police arrived, he was "struggling with patrons and screaming loudly." The cyclist, who was to compete in an amateur track race, was released July 20 from Berks County Jail on a $5000 bond.
Although the onetime best friends have not spoken in years, Clinger and DeCanio seem cosmically linked in misfortune: The day after Clinger's arrest in Pennsylvania, DeCanio lost his job in Miami. His bosses at Braman cited an economic downturn, but DeCanio, who was January's Seller of the Month, thinks all the time he spent focused on Stolenunderground.com probably had something to do with it.
Now that he's unemployed, DeCanio plans on leaving Miami at the end of the month. He wants to return to Virginia and begin training again in the mountains. "I hope I get a contract," he says. "But it would be a miracle. I haven't raced for three years, plus all this stuff with the Website."


DeCanio's close friends universally describe him as well-intentioned, recalling moments of generosity or charity. But at times, the author of Stolenunderground.com comes across as angry and unhinged. DeCanio says his anti-doping crusade even scares his mother.
"He's an exceptionally sensitive person," says hometown friend Alex Gilliam. "Maybe because he lost his teenage years to cycling or because he grew up in a rural area, he's a bit more reactionary than some people. But if you look at Matt, he's always trying to do the right thing. Even that race where he was on EPO — he purposefully rode poorly that day."
DeCanio confesses that returning to college, finding another job — really anything but riding his bike — would feel like failure. But his attempt at cheating felt even worse.
"They say the drugs make a 100 percent difference," he muses. In spite of his campaign, DeCanio cannot help but wonder where he would be if he had simply said yes from the beginning. "I think I'll always kind of regret it. It was my dream to be a superstar athlete, and now I'm here."
https://www.dailyprogress.com/archives/rising-from-the-underground/article_2d6e5aea-e86a-5e9d-8111-624e61b9e057.html

Rising from the underground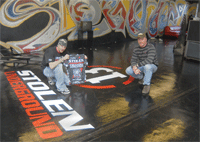 From former three-time Tour de France winner Greg LeMond to professional cycling organization USA Cycling, racers either love or hate Matt DeCanio.
When "googled," DeCanio, 31, comes up in past articles in the New York Daily News, cycling newsmagazine VeloNews and the Miami New Times. Once a rising star in American professional cycling, DeCanio fell from grace in 2005 after voicing his radical views against cyclists who dope.
DeCanio, an Orange County native who is opening a sporting goods store above The Bike Stop, has raced professionally in 22 countries and was the top American in three world championships. He raced for Linda McCartney, Saturn and Prime Alliance, once the No. 1 American team domestically.
But after admitting to being pressured into doping, the tattooed DeCanio began a radical anti-doping movement he named Stolen Underground, which LeMond, an outspoken anti-doping supporter, sponsors. DeCanio provided a phone number for LeMond, who he said was a good friend, but the voice mailbox was full and he could not be reached for comment.
SU's emblem, an upside-down 13, symbolizes taking the unlucky and altering it to make it positive.
"I want to reform sports and I believe that I will," he said, fidgety but with a determination in his voice. "That's what I believe and that's why I'm doing it. I want to use the skateboarding and the BMX and the snowboarding and other extreme sports to launch that."
After living the past few years in South Beach, Fla., DeCanio is back in his native Virginia and looking to expand SU through opening an alternative sports store under the umbrella of The Bike Stop in downtown Culpeper.
"It's still The Bike Stop," DeCanio said, "but we'll call this area (upstairs) Stolen Underground. My stuff is more of a South Beach kind of look. It's going to be more of an urban couture."
From a bar area (for energy drinks) to a small stage, Stolen Underground's headquarters caters to the alternative X Games crowd and feels like an urban hotspot — not the top floor of a building in downtown Culpeper.
Black walls covered in stylish graffiti surround the space, which DeCanio has spent the past nine months designing. One section is covered entirely in worn, broken skateboards documenting the tricks and triumphs of local skaters.
"For the skaters to have a shop that's dedicated to them and really embracing the history of skateboarding in the area of Culpeper," DeCanio said, "I did this for them, too."
Bob Leftwich, who has owned The Bike Stop for 25 years, was looking to expand that portion of his store when he partnered with DeCanio.
"Cyclists, they either love him or hate him," Leftwich said. "But everyone knows who he is. We talked about doing this in Richmond or Los Angeles. But we figure, if we can make it happen here, it can happen anywhere."
Beyond wanting to start his own SU clothing line and open the shop, DeCanio has loftier goals for his anti-doping movement. With the store as his foundation, he hopes to build a professional racing team and place racers in major events, such as the X Games.
Leftwich hoped to get spin bikes donated to the SU headquarters, where team members could meet and train. DeCanio said he already has more than 100 team members around the world. Anyone interested in joining can learn more on his Web site, SU13.us.
DeCanio also intends to sit down with President Barack Obama in the next four years to evaluate drug use in sports and reform the laws.
"I have a lot of dreams," he said, "but I get so intense with my work that I usually accomplish what I set out to do. I expect that I'll do it. I speak with confidence when I say I want to do this. I really believe in the program that we're doing here.
"I did get fired but you can't give up. I've been through a lot of hard times. But no tears, ever. You don't allow yourself to be hurt. You take that energy and you put it into something. It's exciting."
Check it out
What: Stolen Underground, a store opening in February that will carry snowboarding, skateboarding and BMX equipment. It will also be home to the Stolen Underground racing team and anti-doping movement in cycling and sports.
Who: Matt DeCanio, founder
Where: Above The Bike Stop, 120 West Culpeper St., call 825-2105
When: Opening sometime in February, with a private launch event Saturday night
Visit StolenUnderground.com or SU13.us to learn more.
STOLEN UNDERGROUND IS CURRENTLY WORKING TO CAPTURE ALL OF OUR MEDIA FROM THE PAST IF YOU HAVE ANY FILES OR OLD ARTICLES SAVED PLEASE FORWARD THEM TO STOLENUNDERGROUNDRACING@GMAIL.COM